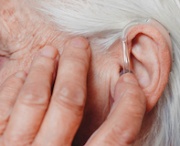 Hearing loss associated with CVD comorbidities in the 'older old'
By Staff Writer
People aged over 80 years with even one CVD risk factor have worse hearing than healthy patients, especially in the low frequencies, a study published in JAMA Otolaryngology-Head & Neck Surgery has found.
Hearing loss was also found to accelerate more quickly in elderly people with CVD morbidities compared with those with no risk factors.
US researchers reviewed medical records and audiology reports of 433 patients aged over 80 years to examine links between auditory function and CVD and CVD-related risk factors, including coronary artery disease, diabetes, hypertension, history of cerebrovascular accident and smoking status. The average age was 89 years and 64 patients were healthy controls with no CVD morbidities.
Low-frequency hearing was most affected, with the healthy controls demonstrating better mean low-frequency hearing by a difference of 5.47 decibels, compared with those with at least one risk factor.
'Treating underlying cardiovascular disease may prevent or slow the progression of hearing loss, and conversely, hearing loss may suggest underlying cardiovascular disease,' the researchers wrote.
A variety of mechanisms may affect hearing, including that CVD may compromise blood flow to the cochlear, the researchers said.
Commenting on the study, Dr Kate Gregorevic, geriatrician at the Royal Melbourne Hospital, said it was also possible that the association between CVD and hearing loss was due to a shared mechanism, rather than being causative.
While the findings were of interest, it was still too early to change management of these older, often frail patients, who required special consideration, Dr Gregorevic told Cardiology Today.
'It's important that we manage CVD and it's important that we manage hearing loss, but this study doesn't give us enough information to say that managing one will make the other one better,' said Dr Gregorevic.
'Sometimes it's important to realise that there are different guidelines for older adults, and in particular if they are frail and in residential care it's much more important to focus on quality of life in managing these conditions.'
JAMA Otolaryngol Head Neck Surg 2018; doi: 10.1001/jamaoto.2018.0643.